CONVERTING YOUR 883
Quick Links:
---
Background Information
Converting your 883 to a 1250 or 1275 is absolutely the most cost-effective way to add power to your bike. Nothing else even comes close on a dollar per horsepower basis. Converting your 883 is also a pretty simple operation, you can perform a conversion in a few hours without even removing the engine from the frame. Conversions can be done with no lower end work and they can be done using your stock heads and cams as well. For these reasons, conversions are very popular, and we get asked about them practically every day. So we put together this guide to help you understand the requirements and myriad of options associated with this very popular topic.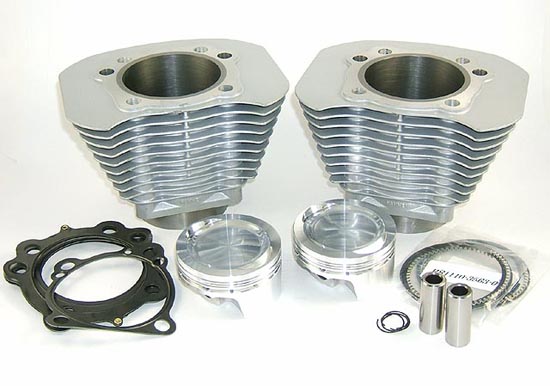 883 to 1250 Conversion Kit with Silver 04+ Big Fin Cylinders
Note the Reverse Dome Conversion Pistons
These Are For Use With Stock 883 Heads




Before we get into the nuts and bolts, though, there are some background things you need to know:
One of the first decisions you'll want to make is whether to convert to a 1250 or 1275. HAMMER Performance provides a kit to do either. Here are some things to consider:

The 1250 kit comes with new, premium quality cylinders with extra thick iron liners to support the larger bore size. The 1250 kit is available with the basic conversion pistons only, for use with stock 883 heads. The higher power packages described below use the 1275 kit.
The 1275 kit comes with new, premium quality cylinders with extra thick high strength steel liners to support the even larger bore size.
Stock cylinders cannot be bored to the 1250 or 1275 bore size as the liners are just too thin.

In addition to the engine kit itself, other parts are needed for a successful conversion. Which specific pieces are needed is a function of the year of your bike. See our Complete and Matched Conversion Packages below to make sure you get everything you need.
XL cylinders from 1986 through 2003 use a small fin pattern, as opposed to the larger fin pattern found on 2004 and newer XL models:



Notice what a large difference this is. It adds considerable cooling capacity.
Small fin cylinders (86-03) can be fitted to 2004 and newer models, however, be aware that they compromise the bike's intended cooling capacity, and also this swap has implications on the motor's appearance as the cylinder fins won't properly match the fins on the heads. Also, the lower fin on the pushrod side will need some grinding to clear the pushrod tube bases.
Big fin cylinders (04-up) will fit fine on 1986 to present bikes, and will add some cooling capacity to 86-03 models. However, consider the appearance issues if being used under 1986-2003 small fin cylinder heads.
The bottom line on cylinders is that if you have a 2004-up bike, we highly recommend staying with the large fin cylinders. If you have a 1986-2003 bike, we recommend getting cylinders to match your heads, which in stock form means small fin style, however, many people upgrade their 91-03 heads with 04-up heads (see below), and in that case, we recommend getting the large fin style. Both styles are readily available in HAMMER PERFORMANCE 1250 and 1275 kits.
In 2004, HD introduced oil squirters under the pistons to cool the underside of the piston domes. If pistons designed for 1986-2003 models are used in a 2004 or newer, you run the risk of the piston skirts hitting the oil squirters, breaking them off and requiring a full tear-down to fix. All Sledge Hammer Pistons from HAMMER PERFORMANCE will clear the factory oil squirters just fine.
With respect to interchangeability between cylinder heads, there are basically 4 generations to be aware of, with some interchangeability possible between them:

1986-1990 (4-speed heads): These heads have different valvetrain geometry than 1991 and newer heads, and therefore it is not recommended that you interchange 4 speed heads and 5 speed heads.
1991-2003: These are small fin heads with 5/16 stem valves and straight wound springs. The maximum valve lift they can safely support with stock hardware is .500". They can be interchanged with 2004-2006 heads except that a new front head mount bracket is required. A bracket designed to put a 2004 or newer head onto a 1991-2003 bike is readily available from HAMMER PERFORMANCE. No bracket is currently available to fit this generation of head to a 2004 or newer bike, it would have to be fabricated.
2004-2006: These are large fin heads with 7mm stem valves and beehive springs. The maximum valve lift they can safely support with stock hardware is .560". These can be put on 1991-2003 models with the use of a new front mount bracket. They cannot be used on 2007 or newer bikes without major modifications.
2007-present: These are large fin heads with 7mm stem valves and beehive springs and a .560" maximum valve lift as with the 2004-2006 heads. However, these heads are made for fuel injection. The manifold surfaces are milled down .062" and the manifold flange bolt holes are also spread apart. These can be used on carb bikes with the addition of a special wider intake manifold offered by HAMMER PERFORMANCE.

In summary, it's generally best to stay with the same generation of heads that your bike is made for. However, 2004-2006 heads can be fitted to 1991-2003 bikes without much trouble. You can read more about the various details of XL cylinder heads in this tech article.
883 heads have shallower chambers than their 1200 counterparts, and longer valves to match. This makes the valves start out closer to each other and closer to the pistons. As a result, in stock form 883 heads cannot accommodate as much overlap in the cams as 1200 heads. The critical dimension is the "TDC lift" spec of the cam grind. If we prepare the heads, this changes of course, and we can put you into much more camshaft. Just keep in mind that you need to be very careful about cam selection when using 883 heads and understand what will fit and what will have clearance issues. If in doubt, ask us.
Since 1995, 883's and 1200's have shared the same crankshaft at any given model year. The crankshafts are balanced for a piston weight that's in between a stock 883 piston and a stock 1200 piston. The Sledge Hammer pistons from HAMMER PERFORMANCE that come in the 1250 and 1275 engine kits are in between the stock 883 and stock 1200 piston weights, so the balance actually comes out better than either a stock 883 or stock 1200. So there is no need to be concerned with hurting the balance of the motor when doing a conversion with either of these kits, you'll actually make it better.
When converting an 883 to 1250 or 1275, it's always required to adjust both the spark advance and the fuel delivery. See our engine kit installation instructions for details on how to do this. Also read FAQ #5 and FAQ #6 below
When considering what level of conversion to do from the descriptions below, keep in mind that stock heads require standard reverse dome conversion pistons, but a prepared head works best with our trick 30 degree reverse dome pistons:




It's not that we can't prepare heads and continue to use the standard reverse dome conversion piston as shown on the left; we certainly can. However, it forces compromises and ultimately ends up with a sub-optimal result. The higher up the food chain you go with the heads, the larger the compromise. This is because head work, particularly large valve head work and/or head work done to complement high lift, high overlap cams, necessarily makes the chambers bigger. That puts downward pressure on the compression ratio, while at the same time, larger cams generally require a higher compression ratio, not lower. So the bottom line is that you need more piston dome as you move up the head prep and/or cam size scale. We can only deck the heads to recover compression so far before we start causing a host of other problems, the right place to address it is in the piston dome. The moral of the story is that pistons, cams and head work are a carefully matched set, and if you try to move up the power scale incrementally over time, you're likely to either need to buy pistons twice (and they're expensive) or end up with a compromised result. See FAQ #2 below for more information.
Through the 2003 model year, 883's and 1200's came with the exact same clutch setup. However, starting in 2004, the 883's got a lighter clutch spring. As a result, when you do a conversion on a 2004+ 883, it's necessary to upgrade this spring, either that or you can expect your clutch to slip. Many people take the opportunity to change the entire clutch pack at this time, swapping it for an aftermarket "Extra Plate" clutch pack to remove the failure prone factory compensator plate. HAMMER PERFORMANCE offers upgraded springs, extra plate clutch packs, the compressor tool needed to change the clutch spring, and the primary gasket you'll need. See FAQ #3 below for more information.
Can you do the work yourself? The answer is an emphatic yes if you have the tools and a place to do it. Read our detailed and illustrated installation instructions here. And never forget, we're only a phone call or email away if you have questions, that's what we're here for. We even answer emails evenings and weekends in most cases.
Achieving optimum results requires proper assembly, heat cycles, break-in, and tuning. Don't cut corners on any of these things! Also read our tech article on How to Optimize Squish Clearance. This little step will yield positive results in both power and fuel mileage.
---
Complete Conversion Packages
So how do you go about converting your bike, making sure you get all the right parts and services? Below, we've laid it out for you with a series of carefully matched, time-tested, proven packages, each of which is designed to deliver a specific target power level in the most cost-effective way possible. Packages range from a low-cost 70+hp configuration up through a 120+hp screamer. You'll find a description of each package, dyno sheets, pictures, and even sample quotes you can download showing each item included and what it costs. Here are some other things to keep in mind:
All of these packages are bolt-ons, and can be installed on a Saturday afternoon without even pulling the engine out of the frame.
Although they're complete with everything you need and nothing you don't, the sample quotes below are just samples. We're more than happy to add or remove things at your request to meet your needs, just contact us.
For the Basic Conversion Package, you don't need to send us anything (except money!). It works fine with your stock heads, cams, etc. You can order this package directly below. We normally turn this package around in 2-3 days. But these aren't normal times, Covid-19 has disrupted our supply chain. Turnaround right now is averaging about two weeks. You'll get a ship notification email from the carrier when it goes out, so watch for that.
All of the higher power packages require that you send us at least your cylinder heads, and in some cases your manifold and/or throttle body as well (although we may have cores available, contact us for details). Please DO NOT send us parts until we have paperwork in place and we're expecting the parts! That just causes mass confusion. So please, contact us first and we'll get a final estimate hammered out specific to your plans. Once the plan is in place, follow our shipping instructions. Your project will be kicked off when your parts hit our door. Turnaround varies with the season. It may be as short as two weeks in the slower months (August through October) or as long as 4-5 weeks in our busier months (February through May). There's no need to worry about payment until your order is ready to ship, and we'll contact you at that time.
All of the sample estimates below leave off both the exhaust and air cleaner. We do this because 99% of the guys who contact us already have aftermarket pieces for both, and in many cases, the parts you already have will be suitable for meeting your goals. However, keep in mind that both your exhaust and air cleaner are critical performance components with the potential to make or break your project. There are massive, massive performance differences from one aftermarket exhaust and/or air cleaner to another. The power of the motor tends to get defined by what holds it back, not by how great the motor package is, and it only takes one part to hold it back. If your exhaust and/or air cleaner are not capable of supporting the target power level, you'll come up short! We have enough experience that in most cases, we can advise you. One great resource is our XL exhaust system dyno test library. We can also provide air cleaners and exhausts that support your target power level.
Except as noted, the dyno sheets below weregenerated with 1250 kits. Over time, we will be replacing these 1250 dyno sheets with 1275 versions as appropriate, but for now, just assume 2-3% more power over the entire rpm range for a 1275 as compared to a 1250.
For the 80+ package and higher, we do not recommend ordering your engine kit separately from your head work. Reason being, during the course of the head work there's some precise matching we do between the heads and the actual cylinders and pistons they're to be used with. If you've already taken delivery of your engine kit, we can't do this matching.
---
The Basic Conversion
The basic 883 to 1250 or 1275 conversion is a simple affair that makes a massive difference in the torque and power of the bike at a very modest price. Many, many people do a basic conversion only for this very reason, in fact this is our number one selling package by a large margin. Here's what goes into a basic conversion:
The stock 883 heads are reused as-is. If they have a lot of miles on them, you may consider a valve job and new valve guide seals.
Either a 1250 kit or 1275 kit is used, and is configured with reverse dome conversion pistons to give 10:1 compression with the stock 883 heads. You should stay at 10:1 or less when using stock cams and pump gas.
Stock cams and valvetrain pieces are left in place.
Upgrades to the air cleaner and exhaust are completely optional.
If your bike is carbureted, a new ignition module is a standard part of this package. 86-03 owners may opt out of the module and readjust their ignition timing to suit the conversion kit instead, but the motor will run sub-optimally
Likewise, appropriate carb jets are a standard part of this package for 86-06 models.
If your bike is injected, a proper flash tuner is a standard part of this package.
2004+ models get a full upgrade to an extra plate clutch kit including spring compressor tool and primary gasket.
That's it! With an afternoon of work, you've made a huge increase in the torque and power of your Sportster, and made it tremendously more fun to ride. How much more? Well, here is an actual result we got: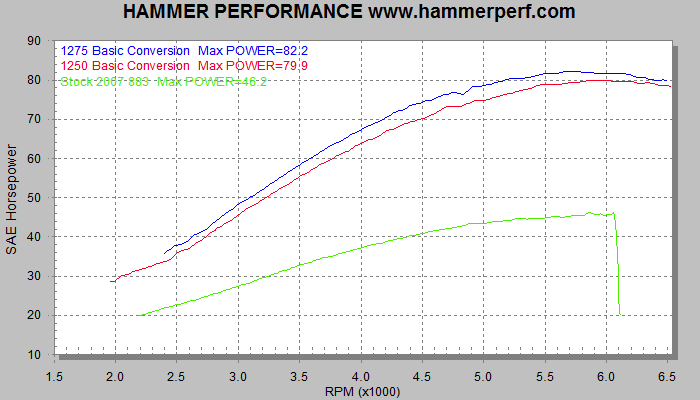 Stock 2007 883 shown in green. In blue and red are the same bike after performing the basic conversion and adding a Patriot Defender exhaust and Air Hammer air cleaner. This package will absolutely transform your bike!

And if you're a torque junkie ...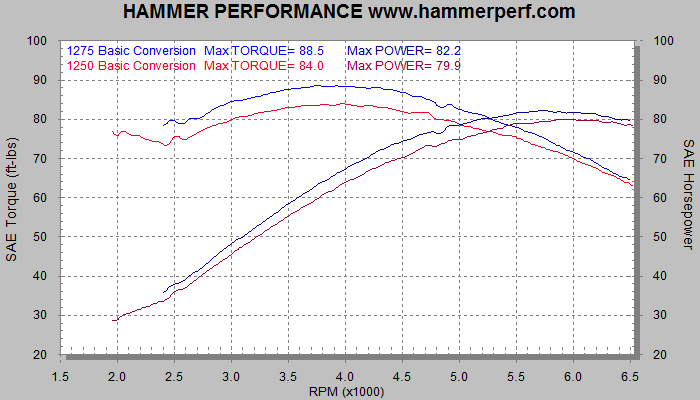 ... these kits deliver it in buckets! The sheet gets awfully cluttered if we add the stock 883 result here too, but it peaked at 49.3ft-lbs.


Sample Quotes and Pictures of the Basic Conversion Package

2014+ Basic Conversion Package (pdf): 1275 1250
07-13 Basic Conversion Package (pdf): 1275 1250
04-06 Basic Conversion Package (pdf): 1275 1250
98-03 Basic Conversion Package (pdf): 1275 1250
94-97 Basic Conversion Package (pdf): 1275 1250
91-93 Basic Conversion Package (pdf): 1275 1250
88-90 Basic Conversion Package (pdf): 1275 1250
86-87 Basic Conversion Package (pdf): 1275 1250

Click the Image Above for a
Slide Show of Packages for Different Model Years
Basic Conversion Package - 883 to 1275
Owners of 2007+ models (EFI) see note below
Basic Conversion Package - 883 to 1250
Owners of 2007+ models (EFI) see note below
Highlight Cylinder Fins - $50 per pair
Machined fin edges as found on certain 1200 models
Requires purchase of Basic Conversion Package
Note we do not offer a fin highlighting service for heads
Upgrade PV3 to PV1/PV2 - $280
Applicable to 2007+ models only
See note below
Requires purchase of Basic Conversion Package



NOTE FOR 2007+ (EFI) OWNERS: The Basic Conversion Package comes standard with a Dynojet Power Vision PV3 tuner. We offer the option of upgrading The PV3 to a PV1/PV2 in the bottom row of the ordering table above. Here's what you need to know to make that decision.

The PV3 is totally capable of tuning the Basic Conversion and it's very competitively priced. But the PV1/PV2 is a more powerful device, with more functions and features, and a bigger price tag to match. The PV1/PV2 also offers the option of wide band tuning and closed loop wide band operation, using add-on kits. These add-on kits are especially helpful in high power builds, because the quality of the tune becomes increasingly more important as you push the power levels higher. At this time, the PV3 does not support these wide band add-on kits, although we've been told support for them is in the works.

Bottom line, unless a high power build is in your future, the PV3 that comes with the Basic Package is right choice because it'll tune your bike just fine and save you a big pile of cash. However, if you think a higher power build is in your future, get the PV1/PV2 upgrade so that you don't end up buying the tuner twice.

Whether you go with the standard included PV3 or the upgrade to the PV1/PV2, be SURE to source your base tune from US, and nowhere else. This is critical for the health of your engine kit. The kit installation instructions describe the procedure for getting your base tune from us, just follow that procedure and we'll get you fixed up.

Looking to add or leave something out of the Basic Conversion Package? You can order any or all of the pieces in the complete package at these links:
---
Taking it to 80+ Horsepower
So let's say you want a little more than the 70ish horsepower available from a basic conversion. What's the next step?

Well, the key to making more power is always to identify and address the thing holding the motor back. In the case of a conversion done with 883 heads, that's mostly the air flow capability of the heads themselves. This airflow capability can be improved by working on the heads as well as holding the valves open longer with longer duration cams. To get to 80+ horsepower using an 883, we'll want to do both.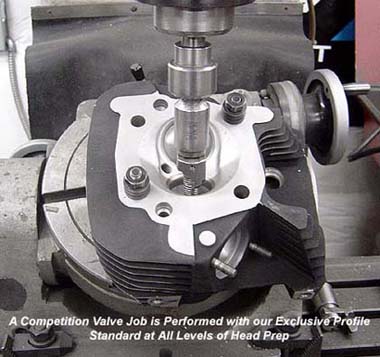 Here's what we'll do:
The stock 883 heads will be treated to a Competition Valve Job. This work goes right to the heart of the biggest problem with 883 heads, which is how the full size ports and bowls neck down to the itty-bitty valves sitting on poorly blended seats. In stock form, it's a recipe for flow-killing turbulence. But the Competition Valve Job cleans this area up nicely. The seat i.d.'s are opened up substantially, and the seats are blended into both the bowls and chambers. It makes a massive improvement to the flow of the heads.
A 1275 kit equipped with our trick 30 degree reverse dome pistons is part of the plan at this level.We'll set this package up at 10.5:1 compression.
A set of bolt-in style cams is used. For 86-03 models, the perfect match is the Andrews N4/V4 grind. For 2004 or newer models, the IMPACT 560's are the best choice. Cams are required if you want to run 10.5:1 compression on US pump gas. If you try to run 10.5:1 on your stock cams, detonation will be a problem and you may well damage your pistons. Note however that we do have a 10:1 version of the 30 degree reverse dome piston if you plan to run stock cams or a high torque cam grind like our JACKHAMMER 570's (the 570 cams are not compatible with 86-03 heads until you reach the 100+hp package head prep level, below).
Upgrades to the air cleaner and exhaust are required to hit 80 horsepower. The best air cleaners on the market are the Air Hammer units from HAMMER PERFORMANCE - the IMPACT model will do nicely for this package. See our XL Exhaust System Dyno Test Library for more information on exhausts. We can provide most any exhaust that's on the market.
At this level, a proper ignition module is required on all 86-06 models, as the increased compression and improved breathing demand a proper ignition curve. It's included as a standard part of the package, along with appropriate carb jets.
Likewise, a proper flash tuner is included as a standard part of this package for all 2007+ (EFI) models
With this basic package, we've had many customers make mid to even upper 80's torque and horsepower. It's a huge bang for the buck! Here's an actual dyno result using this package on a 2004 XL883, EFI bikes with their stock "W" cams make even more: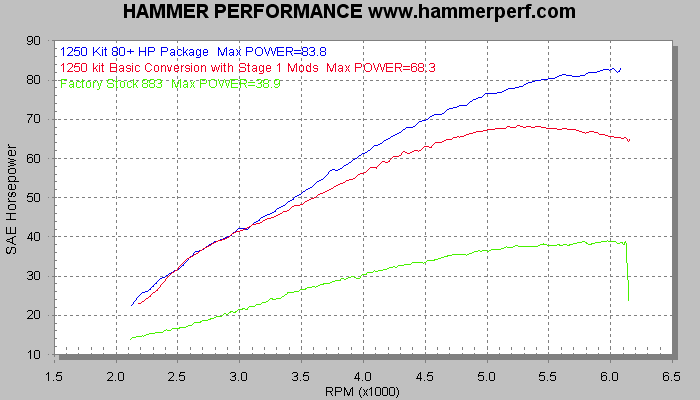 You can see how well the motor responded to the head work and cams, as compared to the basic conversion, and there was no loss in bottom end power either. It's a great package for a very reasonable price.


Sample Quotes and Pictures of the 80+ Horsepower Conversion Package

---
Taking it to 90+ Horsepower
Okay, enough messing around, let's get serious about making some power!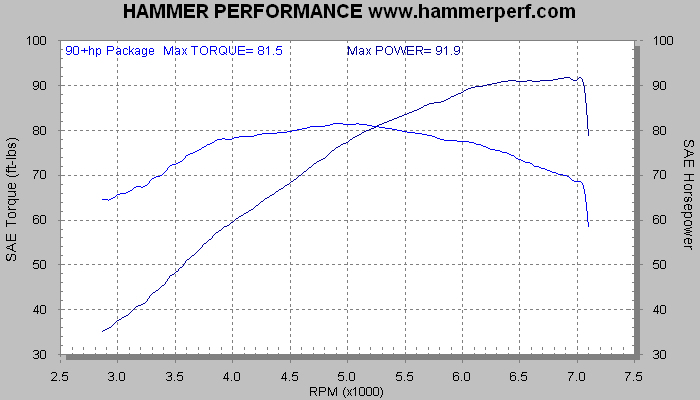 The 90+hp Package Delivers a Huge Bang for the Buck!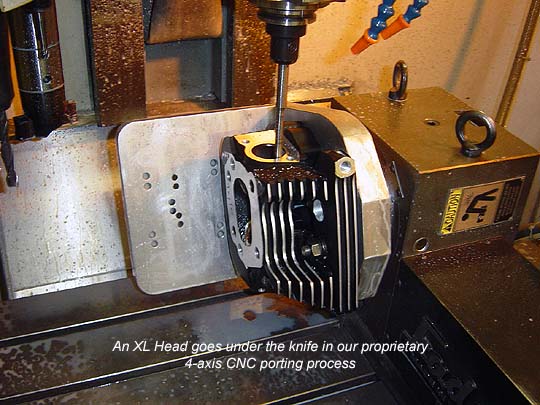 Here's what we'll do:

The stock 883 heads will be treated to an IMPACT porting job. This service includes the Competition Valve Job described in the 80+hp package above, but also includes CNC reshaping of the ports themselves, which results in a substantial increase in flow.
As with the 80+hp package, to get to this level you'll use a 1275 kit equipped with our trick 30 degree reverse dome pistons. Again, we'll set this package up at 10.5:1 compression, but we do have a 10:1 piston available if you'd like to use milder cams and sacrifice some top end power for some additional bottom end power.
As above, a set of bolt-in style cams is used: Andrews N4's if you've got an 86-03 model, and IMPACT 560's if your bike is a 2004 or newer.
As above, upgrades to the air cleaner and exhaust are required.
As above, ignition timing and fueling are adjusted with either an aftermarket ignition and some carb jets, or with an EFI tuner, depending on the year of your bike.
With this basic package, 90+ horsepower is well within reach and costs are still reasonable.



Sample Quotes and Pictures of the 90+ Horsepower Conversion Package




---
Taking it to 100+ Horsepower
Believe it or not, 100+ horsepower is available using your 883 heads, and at a very reasonable cost. HAMMER PERFORMANCE has a combination that can do it!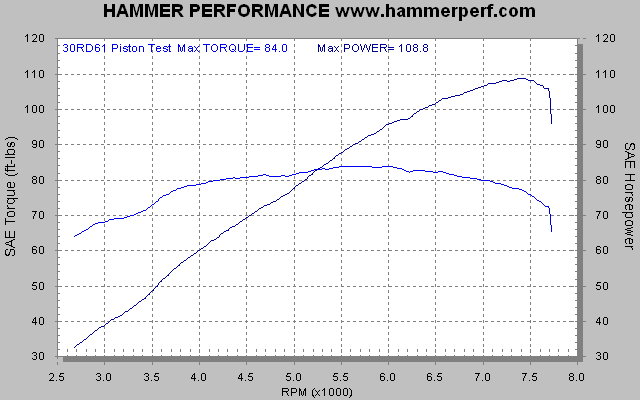 Yes, 100+hp is Possible Without Buying New Heads
Follow Our Formula to Get a Result Like This One
Here's how to get to the century mark and beyond at a very reasonable price:

The stock 883 heads will be treated to a SMASH porting job. This service includes everything in the IMPACT porting service described above for the 90+hp package, but also adds our oversized conversion valves and conical springs. We take your valve sizes up to the largest sizes that will fit in the stock seats: 1.770" intake and 1.530" exhaust valves, in our stainless swirl polished high flow 7mm stem versions. We pair these terrific valves with state-of-the-art conical springs and titanium retainers, a combination we've tested and proven stable to 8000rpm. Despite the tremendous rpm capability, spring pressures remain mild to minimize wear and tear.
A 1275 kit with 30 degree reverse dome pistons is again part of the plan, mirroring the 80+ and 90+ hp packages above. Again, we'll set this package up at 10.5:1 compression
To break 100hp, you're going to need a great set of cams, and the IMPACT 560's are exactly that. No worries if you have 86-03 heads as the SMASH service includes an upgrade to the hardware and your heads will now support these high lift cams. IMPACT 560's are easy on the valvetrain and quiet in operation, too. You can expect a long, trouble free life from this setup.
Don't even think about doing this with a substandard air cleaner. Use a genuine Air Hammer air cleaner. The IMPACT model will support this level nicely.
If you've got a carbureted bike, it's time to ditch the CV40 in favor of a Mikuni. The preferred setup is an HSR45 and one of our HAMMER PERFORMANCE Billet Manifolds. These are included as a standard part of the package. By going big like this, it allows us to do a better job on the ports, as we can maintain the proper taper from the carb to the choke point in the port. An HSR42 forces us to make a compromise here.
The exhaust selection becomes critical at this level. The above chart was done with a Patriot Defender pipe, which is a superb performer at a bargain price. See our library of XL Exhaust System Dyno Test Results for other candidate pipes.
An appropriate ignition module and is included as a standard part of the package for 86-06 (carbureted) bikes.
The best EFI tuner on the market is included as a standard part of the package for 2007+ (EFI) bikes.

Sample Quotes and Pictures of the 100+ Horsepower Conversion Package

---
Taking it to 110+ Horsepower
(applicable to 2004+ XL1200's as well)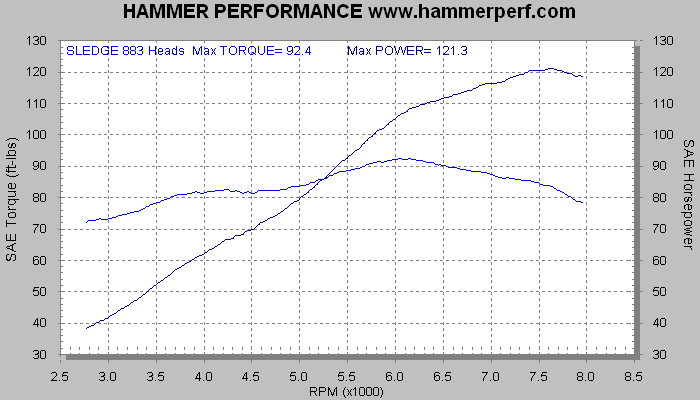 Actual Result From our 2007 XL883 Sportster With the 110+ Horsepower Package
Who says you need 1200 heads to make big power? Not at HAMMER PERFORMANCE! We've made over 120 horsepower on 883 heads with this package. You should have no problem breaking 110hp; truth be told even 115 is an easy mark for this combination.

Here's how to get past the 110hp mark with your 883:

Hit it as hard as you can, use a SLEDGE HAMMER! Once you get to the SLEDGE level, 883 heads no longer give up anything to equivalently prepared XB or late model XL1200 heads. Four new seats and the largest valves we can make fit are just the beginning. We complement these valves with extensive chamber work and our exclusive SLEDGE custom tailored porting process. A set of state-of-the-art conical springs with Ti retainers gives you a valvetrain safe to 8000rpm, but because of the lightweight components and the advanced lobe design of the cams below, it's done without the high spring pressures that increase wear and tear. When it's all said and done, your 883 heads will perform every bit as good as the best prepared XB heads, but without the big expense!
It not only takes big valves to flow enough air to make 110hp, it also takes bigger cams. Our CRUSH 600 cams are proven power producers. But the lobe design is both quiet and easy on the valvetrain, and the gentle ramp rates don't need the brutal spring pressures required with other cams in this size range. Truly a real-world set of cams with longevity and reliability, and perfectly matched to our head work and engine kits, these are the ideal choice.
Your 1275 kit will get a special set of 30 degree pistons, designed to push the compression a bit. Don't worry though, the later intake close timing of the CRUSH 600 cams bleeds much of this off. Expect 200-210psi of cranking compression when it's all said and done, which is fine with proper tuning.
To deliver all the air this monster needs, you'll need the best air cleaner made, and that means the CRUSH model Air Hammer.
If you've got a carbureted bike, the package includes an HSR45 Mikuni and a HAMMER PERFORMANCE Billet Manifold. If your bike is injected, you have a 45mm throttle body already, but the throttle body and manifold both benefit greatly from a little work. Send it to us along with your heads for porting.
You're going to need the best exhaust on the market, and the best we've ever tested is the Patriot Defender. Set the baffle butterfly wide open and leave it there. See our exhaust system dyno test library for lots of information on XL exhaust system performance.
As with the other packages described above, this package includes an appropriate ignition module (carbureted bikes) or EFI tuner (injected bikes).
Assemble it correctly, optimizing your squish clearance along the way. Heat cycle and break it in correctly and then get it on the dyno for a thorough tune-up. 110 is an easy mark, and over 115 is well within range.

And just in case you're still worried you're somewhow giving up some power by sticking with your 883 heads, check out this sheet: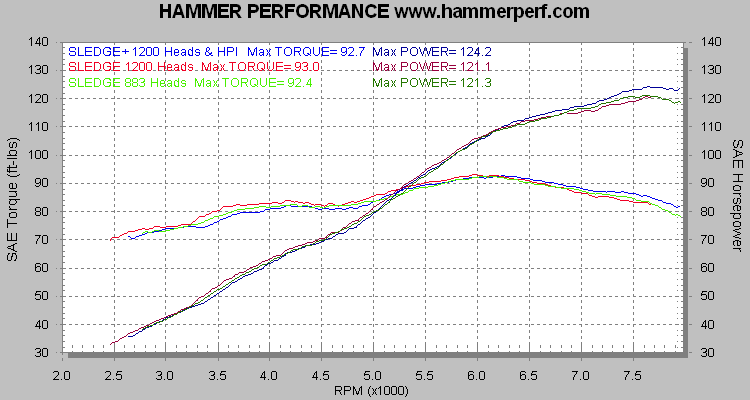 In blue is a set of SLEDGE PLUS ported EFI 1200 heads with an HPI 55mm throttle body
In red is a set of SLEDGE ported EFI 1200 heads with a ported factory throttle body
In green is a set of SLEDGE ported EFI 883 heads with that same ported factory throttle body
SLEDGE PLUS service adds welding up of the port so that we can make an optimum shape
Collectively, the PLUS service and the HPI throttle body added only 3hp

Sample Quotes and Pictures of the 110+ Horsepower Conversion Package

---
Taking it to 120+ Horsepower
(applicable to 2004+ XL1200's as well)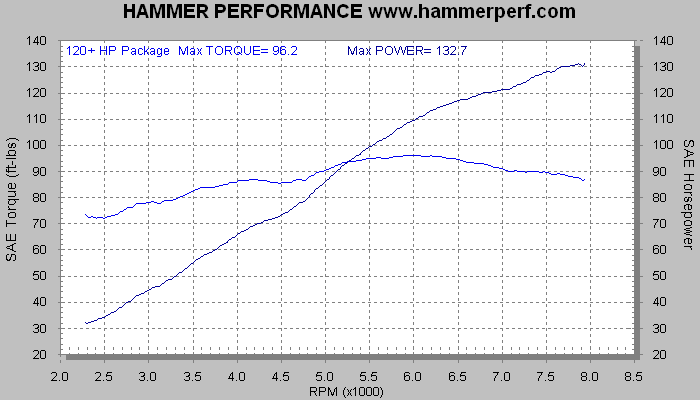 Actual Result From our 2007 XL883/1275 Sportster With the 120+ Horsepower Package
HAMMER PERFORMANCE raises the bar again! This package achieves levels of bolt-on performance never before seen in the industry! And we've done it in a reliable, pump gas friendly combination. The above motor has only 200psi of cranking compression and only moderate valve spring pressures. These results are achieved with modern technology and innovation, not excessively high compression and brutal cams!

Here's what goes into the 120+ package:

To get to this level, we had to invent a whole new head prep service. The BFH Head Porting Service has some major improvements over the SLEDGE service:

We do a limited amount of welding on the floor of the ports, to add some material where they desperately need it. This allows us to make an even better port than is possible with our SLEDGE porting service. The floors are really the only place in the port that welding can be done without creating risk of other problems.
We alter the valve angles, spreading the valves farther apart.


| | |
| --- | --- |
| The valve placement and angles were 3D modeled to determine the ideal angles for the valve sizes and cam overlap. Once the final design was determined, toolpaths were derived for the CNC machining operations. | The larger valves and higher rpm potential called for the latest in valve spring technology. Beyond a beehive, these recently introduced high tech springs provide natural damping of oscillations via a different resonant frequency for each coil. Spring pressure is increased only slightly, to maintain a durable, long life valvetrain. The valvetrain is rock solid stable to at least 8000rpm with this combination. |


The valve tip remains in the same location so that no changes to the rocker arms are needed. This allows us to use larger diameter valves. 7mm stems are retained, to provide a lightweight valvetrain that does not require brutal spring pressures to maintain high rpm valve control. Special cone shaped single wound springs that provide natural damping of harmonic resonances are used to provide superb control of the larger valves with only a nominal increase in pressure. These springs are state of the art and only recently developed.



We invented the world's first bolt-on 1275 kit! The 1275 kit was invented specifically for this package, and then later filtered down to the other packages described above.




The HAMMER PERFORMANCE Bolt-On 1275 Kit
No Case boring Required!



To accommodate the larger, more spread apart valves as described above, we increased the bore size on our world famous 1250 kits. This is made possible by a special 120,000psi tensile strength steel liner, which allows the cylinder spigots to be made thinner. NO CASE BORING IS REQUIRED, this continues to be a bolt-on kit just like the 1250. This new steel liner also does not compromise liner thickness in the working area of the cylinder. The extra strong material makes it even more structurally stable than our legendary 1250 cylinder!




| | |
| --- | --- |
| The 120,000psi Tensile Strength Steel Liner Enables a Thin Spigot for a Bigger Bore | The Working Area of the Liner Remains Thick to Promote a Straight, Round Bore that Doesn't Distort Under the Heat and Pressure of a Running Engine. This Results in Superb Ring Seal. |




This power level starts to outrun the factory 45mm EFI throttle plate, as well as the HSR45 Mikuni on carb'ed bikes. So the EFI version of this package includes an HPI 51mm throttle body, and we port it's manifold as well. The carbureted version uses an HSR48 Mikuni mounted on one of our billet intake manifolds.
To complement the extra large valves, 1.725 ratio rocker arms are a standard part of this kit. Large valves bring in most of their flow gains at higher lifts, and the high ratio rockers allow us to achieve this higher lift without creating cam box clearance issues or problems with the factory lifter anti-rotation device.
As with the 110+ package, you're going to need the best exhaust on the market, and the best we've ever tested is the Patriot Defender. Set the baffle butterfly wide open and leave it there. See our exhaust system dyno test library for lots of information on XL exhaust system performance.

Sample Quotes and Pictures of the 120+ Horsepower Conversion Package

---
Frequently Asked Questions









---
Final Thoughts
Hopefully the above does a reasonable job of describing the paths to various horsepower levels you can achieve with your conversion. But we fully understand that you may still have questions, so please don't hesitate to contact us at any time, we'll do our best to answer whatever questions you might have, and we'll roll the information into the above to help others. We want to make this article as complete and accurate as possible.

Also, if you're interested in any of the above packages, we would be happy to put together a formal estimate for you and fire it off by email. It helps if you fill out the form on the Contact Us page as it asks for all of the information we need to create a quote with shipping included.

Thanks in advance for your business with HAMMER PERFORMANCE, we sincerely appreciate it, and we look forward to working with you on your project.