---
Cylinder Boring and Honing - $100
Trust the experts at HAMMER PERFORMANCE with this critical job!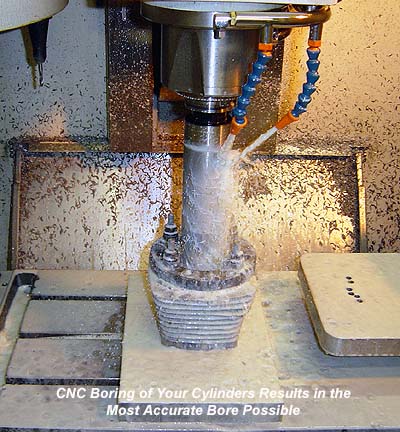 There's nothing more important to a good running engine than proper ring seal, and ring seal is all about a straight, round bore sized perfectly for the piston and with a proper surface finish to encourage ring seating. Achieving those things though takes a combination of equipment, knowledge, and experience. The experts at HAMMER PERFORMANCE have been boring and honing cylinders for years and have developed and refined a process that gives perfect results every time.
We start this process by cleaning your head and base gasket surfaces thoroughly. We then clamp each cylinder into our specially designed fixture with a torque plate and bore it in a precision CNC Machine (see the video below). Unlike most boring processes, our double sided boring head ensures a perfectly round bore because the cutters remain evenly loaded through the entire process. Coolant is constantly sprayed into the bore to eliminate distortions caused by heat and provide a smooth, even cut.
Once the cylinder is bored, it's taken to our precision honing machine for final sizing and surface finish. The honing process is cooled with a constant flow of honing oil again to prevent distortions caused by excess heat. Using precision measuring instruments with a resolution down to a ten-thousandth of an inch (.0001) we hone the cylinder for a perfect fit to the piston. Proper clearance gives better ring seal, longer life, and MORE POWER.
For the ultimate in performance and longevity, pick up a set of Sledge Hammer Pistons when you get your cylinders bored and honed. We give a substantial break on the price when you do, and you get some of the best HD/Buell pistons available today.
If you want the highest quality cylinder boring and honing service for your Sportster or Buell, matched to the best pistons you can buy, look no farther than HAMMER PERFORMANCE!