LOWER END
For Sportster & Buell
Quick Links:
---
General XL & Buell Crank Information
For 1991-up Sportsters and Buells
Why Do Harleys Vibrate So Much? There's a physics reason behind it. With pure rotating weight only (absent any reciprocating weight) a flywheel assembly could be balanced perfectly for all rpms, i.e. it wouldn't matter how fast you spin it, it would always be in perfect balance. But connecting rods and pistons contribute reciprocating weight, and worse, the loads imparted onto the crank by reciprocating weight go up as the square of the speed increase, rather than linearly. The classic way to balance when you have reciprocating weight is to design the motor such that the loads from one rod & piston assembly offset the loads from another rod & piston assembly. However, the 45 degree common crankpin and knife & fork rod assembly make this impossible. So sans a counter balancer, we're stuck with achieving proper balance at one rpm only, with vibrations increasing as the rpm is moved further and further away from that point. Therefore, the most effective thing you can do to improve the balance on an HD motor is to minimize reciprocating weight, i.e. run lightweight connecting rods and pistons. Not only will this reduce vibration, but it will also reduce the wear and tear on the lower end, make a failure less likely, and add power. At HAMMER PERFORMANCE, we offer the lightest connecting rods and pistons in the business for exactly this reason.
More Torque from Heavier Flywheels? No! This is bad information that even some professional shops spread around. Torque comes from cylinder pressure and it's mechanical advantage on the crank (both bore and stroke give it mechanical advantage). The flywheel assembly simply stores the energy, it does not produce it. In fact, when you dyno test a bike on an acceleration based dyno like a DynoJet, a bike with heavier flywheels will, all else being equal, show less torque and power than a bike with lighter flywheels! However, because heavier flywheels store more energy, they make it easier to pull away at low throttle and low rpm without stalling, and likewise generally improve very low rpm manners.
883 or 1200? Through the 1994 model year, HD offered a separate crankshaft assembly for 883's and 1200's, each balanced for the appropriate pistons. However, beginning in 1995, HD reverted to one part number for either model, a situation that remains true today. When buying a replacement 883 assembly for a 91-94, the part number now supersedes to the common assembly. As explained above, the net result of this change is that the ideal rpm for minimum vibrations will be somewhat different between the two engine sizes, due to the difference in reciprocating weight between 883 and 1200 pistons.
Buell or XL? 1995-1996 Buell S2 models used standard XL crankshaft assemblies. However, beginning with the S1 model introduced in 1996, and extending through the 2002 model which was the last year of interchangeable Buell/Sportster cranks, Buells got lighter flywheel assemblies. The lighter flywheel assembly makes the bike rev quicker and will show more power on an acceleration based dynamometer (e.g. DynoJet). The downside is slightly poorer low rpm manners. A lightweight flywheel assembly from a 1996-1999 Buell will go right into a Sportster from 1991-1999. Likewise a lightweight flywheel assembly from a 2000-2002 Buell will go right into a 2000-2003 Sportster. Beginning with the Buell XB model introduced in 2003, there is no more interchangeability between Sportster and Buell cranks. Likewise, the 2004 & newer XL cranks (rubber mounts) do not interchange with earlier XL cranks. However, HAMMER PERFORMANCE offers a service to allow the latest 1.5" crankpin Buell XB and XR1200 Sportster crank to 91-03 XL's and 95-02 Buells, see below for details.
Pressed or Bolted? Beginning in 2000 all factory XL & Buell cranks became press together assemblies, as opposed to the bolt-together versions found on 1991-1999 models. The press together style cranks greatly complicate crank servicing, in fact HD stopped selling service parts for them, they only offer complete assemblies. However, the pressed design does add some rigidity to the whole assembly and they have proven reliable in street performance applications. Fitted with quality connecting rods, trued, balanced, and welded, they've proven suitable for race applications as well. Press-together cranks from 2000-2002 Buells and 2000-2003 Sportsters can be fitted to 91-99 motors with a minor machining operation on the right side case half, which HAMMER PERFORMANCE can provide for you. Bolt together cranks from 1991-1999 models can be fitted to 2000-2002 Buells and 2000-2003 Sportsters with no problem.
What's the Best Crank? Starting in 2008, all Buell cranks got a new 1.5" crankpin, as did the XR1200 model. All other XL and Buell cranks came with a 1.25" crankpin. The larger 1.5" piece greatly increases the rigidity of the crank, resisting "spread" which can cause pinion runout and breakage. These cranks are a bolt-in replacement for 2004+ XL and 2003-2007 Buell XB models, if you buy the alternator/rotor assembly and the bolt and washer as well. They can be fitted to 91-03 XL's and 95-02 Buells with a special machining service offered by HAMMER PERFORMANCE, see below.
---
XR/XB Crank Conversion
For 1991-2003 Sportsters and 1995-2002 Buells

In 2008, HD came out with a massively improved crankshaft assembly for Buell XB and Sportster XR1200 models. This assembly features a large 1.5 inch crankpin to resist spread and eliminate big end bearing issues, as well as a large splined sprocket shaft for more strength and connecting rods made of a stronger material. It's also about 3lbs lighter than a stock 2004+ XL crank. It's essentially a racing grade crank but at a fraction of the price of competitive aftermarket offerings. It bolts right into 2004+ XL's and 2003-2007 Buell XB's if you also get the new matching front primary sprocket/rotor (available in 34T or 38T) as well as the bolt and washer that hold it on.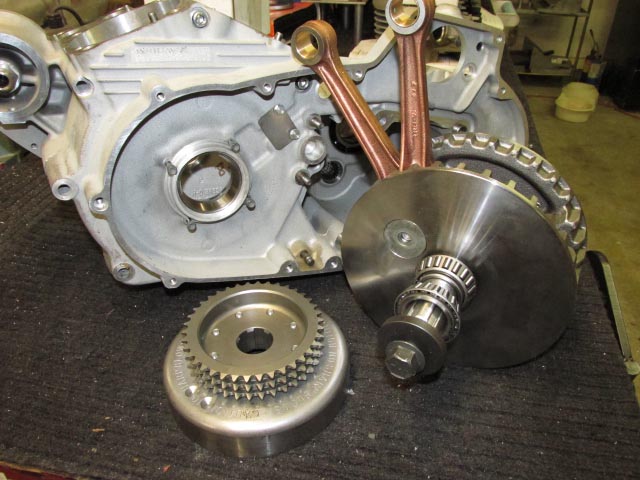 91-03 style Sportster cases machined to accept the XB/XR1200 flywheel assembly shown

This crank is so desirable that in the spring of 2014, HAMMER PERFORMANCE set out to fit it to the 91-03 series of bikes, which are much preferred among racers. We succeeded in doing so and since then we've fitted this crank into numerous lower ends destined for high performance street and race applications, and the modification has proven successful. If your 1991-2003 XL or 1995-2002 Buell is in need of crank work, you should seriously consider this upgrade. It's a far superior crank to your other alternatives and the price is reasonable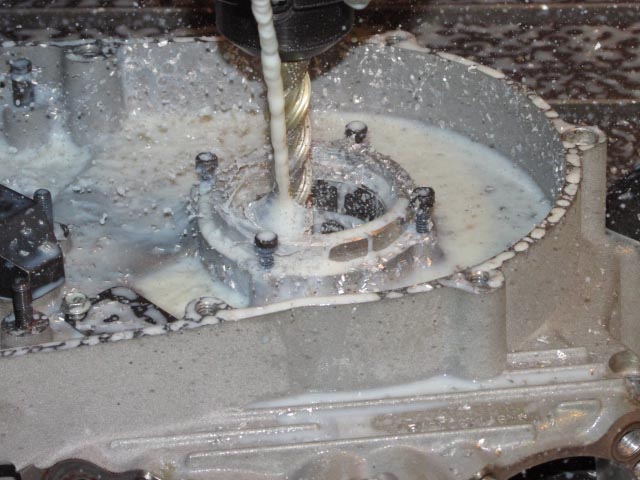 CNC machining the left case half to accept the XB/XR1200 crankshaft

The flywheel assembly, rotor/sprocket assembly, retaining bolt & washer, machine work, and special parts needed to use this crank are bundled with the complete overhaul of the bottom end, including new sprocket shaft bearings and races, a new outer pinion race pressed into the right case half and line-lapped to the sprocket shaft side, a new pinion bearing, installation of the flywheel assembly and setting the flywheel end play, a new sprocket shaft seal, and complete assembly of the lower end. In other words, it comes back to you completely rebuilt and ready to have you finish the engine assembly and install it in the bike. Please click here for a detailed quote of the parts and services provided in this bundle.

Note: this service requires that you purchase all parts from us as shown on the sample quote. We will not install customer supplied parts.
---
Crank Work
HAMMER PERFORMANCE can handle all your Sportster/Buell crank prep!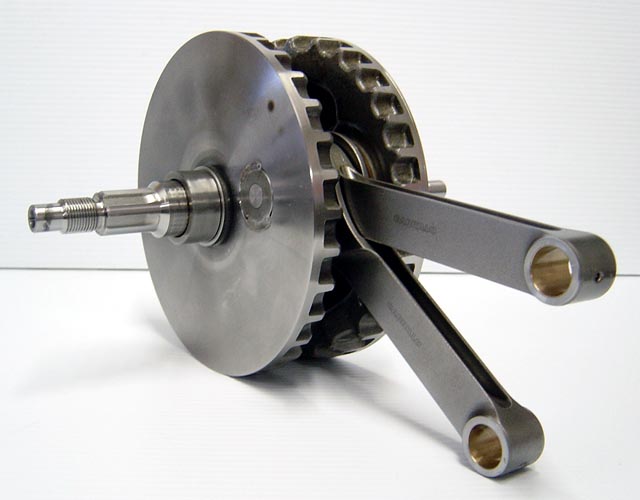 A pressed crankshaft for a rubber mount XL Sportster with Carrillo rods and welded crankpin
At HAMMER PERFORMANCE, we have extensive experience preparing crankshafts for high performance and racing use. We know what works and what doesn't, and we know all the little tricks to make them as durable as possible. See below for a selection of the services we offer. These prices are for the service work only, parts are additional. See below for our selection of lower end hard parts.


Crankshaft Services for Sportsters & Buells

Service

Purchase

Service XL Crank
Disassembly, Replace Worn Parts,
Reassemble, True
Balance Optional

Note: pressed together cranks serviced in
partnership with Dark Horse Crank Works

Weld Crank Assembly
Adds Rigidity and Strength

$40

Cryo Treat Crank Assembly
Improves Durability Under Severe Conditions

$200

Resize Rods
For Rods with Out of Round Big Ends

$125

Weight Redistribution
Helps Resist Flywheel Spread in High Rpm Applications
Requires Rebalancing

$325
---
Connecting Rods
Quality Connecting Rods from Carrillo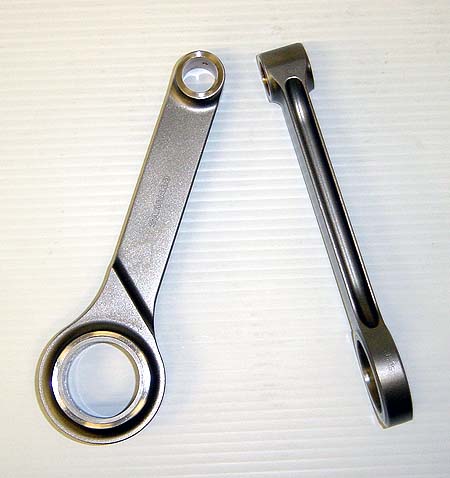 One of the first lower end components you should consider upgrading on your XL or Buell hot street or race motor is the connecting rods. A connecting rod failure is an ugly thing that ultimately costs much more than it costs to just get a good set of rods in the first place.

At HAMMER PERFORMANCE, we've used all of the popular XL connecting rods, and one brand stands out for their superb quality, high strength, and light weight: Carrillo. These rods have endured brutal beatings at the hands of our 200+mph nitro burning Bonneville Sportster. They will easily hold up in your street or race motor.

In addition to being enormously strong, these rods are also very light, lighter even than the stock pieces, which is remarkable considering how much stronger they are. Less reciprocating weight means less vibration, less wear and tear on the lower end, and more power. They're a terrific complement to our ultra light weight Sledge Hammer pistons.

Carrillo rods are made from their proprietary alloy forgings. They're currently only offering XL rods in one size off-the-shelf, a 6.938" length with a 1.25" crankpin. The 6.938" length is .012" longer than stock to give a little tighter squish with typical gaskets.

If you require a different length and/or a different crankpin diameter, give us a call. Carrillo will do customs. Call to discuss your needs and we'll get you a quote.


Carrillo Rods for Sportsters and Buells

Application

Length

Big End I.D.

Crankpin

Purchase

83-Present XL, 95-07 Buell (except Blast, XB9, 1125)

6.938"

1.625"

1.25"

Custom

Custom

Custom

Custom

Please Call
---
Lower End Parts
Bearings and Other Hard Parts for your Sportster/Buell Lower End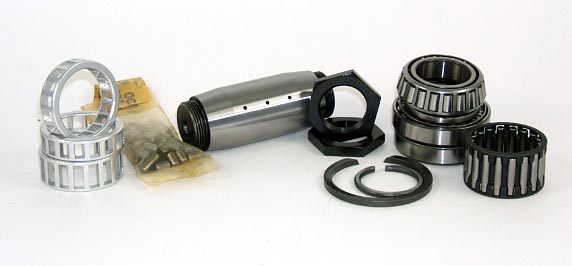 At HAMMER PERFORMANCE, we can supply all of the hard parts it takes to put a lower end together. We build these motors all the time and we almost always have the parts in stock. If you don't see what you need listed, give us a call, chances are we have it on the shelf.


Lower End Hard Parts for Sportsters and Buells

Description

Purchase

Pinion Shaft Bearing
Note: Select bearing color code based
on table in factory service manual

Sprocket Shaft Bearing Set
Matched set with bearings, races,
shim, and spacer

$41.95

Sprocket Shaft Bearing Shim
Note: Select shim size for .001 to .005
flywheel end play

Crankpin - JIMS 3-hole 1.25"
This is the best XL crankpin we've found

$78.95

Crankpin Nuts - JIMS (pair)

$48.95

Rod Bearing Cages (set)
Aluminum cages hold 17 rollers each
These cages require the use of non-stepped
copper thrust washers below

$22.95

Rod Bearing Roller Set, 34 rear + 17 front

Big End Thrust Washers (not shown)
Note: be SURE to match the thrust washer
type to the height of the cages