---
Bolt-On Big Bore Kits - Only $640!
98ci for 1999-2006 Models, 107ci for 2007-Present Models
Our most popular Twin Cam kits! For even more torque and power with your stock cylinders,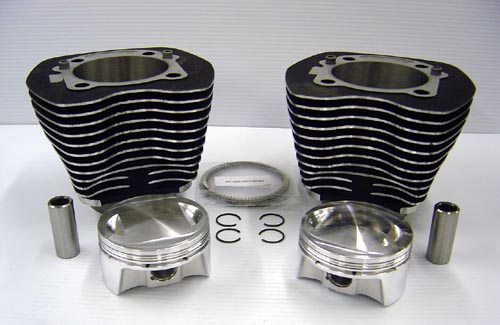 let us bore them all the way to 3.938", which gives either 98 or 107ci depending on the year of your bike. This is roughly an additional 3% on top of the standard overbore conversion described below. We've done this many times and have never seen a problem with taking the stock cylinders this far. The only down side is that you have no overbores left in your cylinders - many tens of thousands of miles down the road when you need to freshen the top end, you'll have to get new cylinders. However, Twin Cam cylinders are not expensive, so this is a relatively small downside. Premium quality Sledge Hammer pistons will be custom fitted, and rings, wrist pins, circlips, and a complete EST top end gasket set are all included.
As with the conversion kits, we offer the convenience of a pre-assembled kit as well. We'll thoroughly clean your cylinders, precisely gap your rings, and then pre-lube and assemble the pistons and rings into the cylinders. The ready-to-install assembly will then be shipped to you in a sealed plastic bag to keep it clean and safe. This service makes the installation a breeze, as you simply lower the piston down enough in the bore to expose the wrist pin hole, position it over the connecting rod, insert the wrist pin and circlip, and push the cylinder down into position. No special ring compressor tool required!
Description
Year
Compression
Ratio
Price
Add To Cart
98ci Bolt-On Big Bore Kit
Includes Cylinder Boring,
Piston Kit,
EST Top End Gasket Set
1999-2006
10.5:1
$640
107ci Bolt-On Big Bore Kit
Includes Cylinder Boring,
Piston Kit,
EST Top End Gasket Set
2007-Up
10.5:1
$640
These kits require that you send us a serviceable pair of cylinders for boring and honing
Cores may be available, call for availability and price
Twin Cam Bolt-On Big Bore Kit Options

Description

Price

Add to Cart

Gap Rings and Pre-Assemble Engine Kit

$50