---
Cylinder Heads
High Performance Factory Heads are Available from HAMMER PERFORMANCE!
HD has offered a lot of heads for XL & Buell models over the years, some good and some not-so-good. If you're looking to upgrade to the best ones, Hammer Performance can set you up. We offer factory performance heads either as bare castings with stock seats and guides (which make a great basis for your Smash or Sledge porting service), or fully assembled and ready to bolt-on.
Buell Thunderstorm Heads - No Longer Available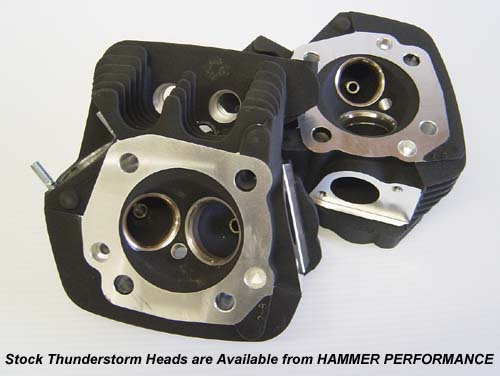 As of July 2013, we're having trouble sourcing new Thunderstorm heads. The last bikes that had them rolled off the assembly line 11 years ago, so this is no big surprise. We'll leave the information below for reference purposes, but we can no longer supply new Thunderstorm heads
Buell Thunderstorm heads were the first real performance head for XL's offered by the motor company. They came out in 1998 on Buell S1W and S3 models, and instantly became enormously popular as an upgrade for XL's and other Buells.
The improvements over the previous XL heads came in the form of much larger valves, improved ports, and an improved chamber. Valve sizes were increased from the earlier 1.715" intake & 1.480" exhaust all the way up to 1.810" intake & 1.575" exhaust. This alone results in dramatically better flow. But the ports were improved as well, with a higher floor and a more gradual radius in the roof through the bowl area. Finally, the chamber was improved to add a 15 degree squish band while not shrouding the valves terribly, and the heads were paired with an all new matching piston. Squish band effectiveness is limited, however, by the cast-in squish shelf, which is uneven and not very accurate. Hammer Performance can machine this area for a precise and effective squish band.
Retrofitting these heads to 91-03 Sportster models is very straightforward, as they are almost a bolt-on. The only issue is that the front head's front mount bolts are 7/16-14 thread, instead of the 3/8-16 as found on 91-03 Sportsters. Some drilling of your front motor mount bracket will likely be necessary, and you'll need to fit a short stud onto the left side (spark plug side) or use a very short bolt.
Retrofitting these heads to 86-90 Sportster models is not recommended, however, plenty of people have done it. The main issue is the spacing of the pushrod holes. Four-speeds have slightly different geometry because the tappets are offset from the cams slightly. When you put five speed heads onto a four speed, you risk causing a pushrod rub problem where the pushrods pass through the heads. The same bolt hole size issue described above also exists when retrofitting these to four-speeds.
Retrofitting these heads to 04-up Sportster models is recommended even less. First off, if your 04-up Sportster is a 1200, you already have better heads than these, so swapping them would be a downgrade. But even if you're looking for something better than your 883 heads, Thunderstorms are generally not the best choice for an 04-Up. Thunderstorm heads have smaller fins than the 04-Up Sportster head & cylinder fins, and they may look funny sitting over the top of your late model cylinders. Also, the front head's right front mount hole (pushrod side) sits 1/4" more outboard on a Thunderstorm head than on a late model XL head, so a mount modification would be needed. It's not impossible to put these on a late model XL, but most people opt for the Buell XB or late model XL1200 heads instead.
Thunderstorm heads are available in a straight black finish only. The fins can be highlighted manually but this seldom comes out looking as good as a factory highlighted fin. If you're looking for highlighted fins, we recommend going with some 2004-Up XL1200 heads as listed below. If you're looking for silver, you can either paint a set of Thunderstorms, or go with a set of XB heads listed below. You could strip and powder coat a set of Thunderstorms, but by the time you got done, you'd be into them about as much as a set of XB heads.
Thunderstorm heads are available from HD either bare or fully assembled. However, as of their latest price increases, they're charging the same amount either way. Therefore we are only offering them in assembled form.
Despite the introduction of the Buell XB and 2004-Up XL1200 heads, Thunderstorms remain popular. The bikes that Thunderstorms came on as original equipment are long out of production, though, in fact Buell doesn't even exist anymore, so who knows how long these heads will be available. If you want a set, get them while you can.
Buell XB Heads and 2004-2006 XL1200 Heads - No Longer Available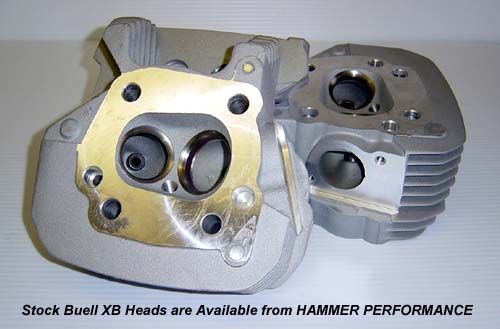 As of Spring 2022, Buell XB heads and 2004-2006 XL1200 heads are no longer available from HD. We'll leave the information below for reference purposes, but we can no longer supply these heads new. But if you need modern heads for your carbureted application, see the 16500164 SE heads described below.
The Buell XB heads came out in 2003, and an XL version of these heads came on all 2004-2006 XL1200 models. These heads feature improved ports over any of the previous factory heads, with large 1.810" intake and 1.575" exhaust valves featuring lightweight 7mm stems and a beehive spring pack that can handle up to roughly .580 lift (previous XL heads were only safe to .500 lift). Although they flow about the same as the Thunderstorm heads, they do it with a smaller port and the flow is less turbulent, both of which result in more power. In our testing, comparing stock to stock, these heads are worth 4-5 extra horsepower over Thunderstorm heads, in situations where the heads are the thing limiting the power. Stock Thunderstorm heads start becoming a big bottleneck at around 90hp and these heads in stock form start becoming a bottleneck at closer to 95hp.

Another improvement in these heads over the Thunderstorms is the compact 62cc bathtub chamber. Although the factory claims 60cc, in reality most measure out to 62cc, not unlike Twin Cam heads which are spec'ed at 85cc but generally closer to 87cc. The bathtub chamber shape gives a nice, even squish area when used over flat top pistons, with a large squish band surface area to promote good mixing, which gives better detonation resistance and more efficiency. Over flat top 1200 pistons, these heads give a 9.7:1 compression ratio, over flat top 1250 pistons they give a 10:1 compression ratio, and over flat top 1275 pistons they give a 10.25:1 compression ratio. We also offer 1275 pistons with a small dome that will get you 10.5:1 under these heads. These chambers also give us plenty of material for machining angled squish bands, which improves performance even more by reducing the shelf the air must flow around when entering and exiting the cylinder, as well as by directing the fuel coming out of the squish band directly at the flame front without being obstructed by the dome. Hammer Performance offers both 15 and 30 degree angle dome Sledge Hammer forged pistons in our 1275 kits and can CNC machine the heads to match. Virtually all of our performance packages use 30 degree pistons with matching machine work.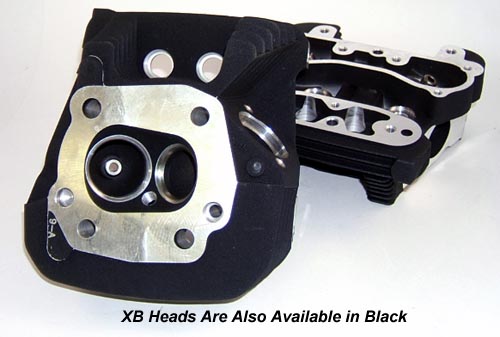 And yet another nice improvement in these heads is the larger cylinder fins. These improve cooling, and when combined with big fin cylinders, they give the motor a bigger, more filled-out look than the original heads and cylinders on 1991-2003 models. Retrofitting these heads to 1991-2003 models easy to do and common. Basically all you need is the front adapter mount to attach the front head to the steering neck area, because all big fin heads have that bolt hole relocated inboard a tad and use larger 7/16-14 bolts instead of the smaller 3/8-16 bolts found on older bikes. Also, XB heads need their breather bolts machined, drilled, and tapped (a service we provide). And finally, these heads are all 3.670" in height, which is .020" shorter than original 1991-2003 heads. This is generally not enough to get you in trouble on pushrod length, but check it during assembly anyway.

All XB heads can be used with a standard-width carburetor manifold. However, be aware that in 2007, all XB heads started coming with the wider intake flange pattern. So if you get a set of those, also get the wider flanges. This is a nice improvement that gives better access to the bolts.
Screamin Eagle Carb Type Heads (16500164)

If you're looking for a modern set of heads for your carbureted application, and you've got a goal of no more than about 100 horsepower, you should consider a set of the 16500164 Screamin Eagle heads. This is the only remaining carbuetor compatible heads HD still offers. They can be used on applications all the way back to 1991 (note: HD literature states 1992, but they can also be used on 1991 models if you buy four new spark-plug-side head bolts, offered below).

Like the 2004-2006 XL1200 heads, these are based heavily on the Buell XB heads that debuted in 2003. They have better port castings, bathtub chambers, big fins, and they come with lightweight 7mm stem 1.810/1.575 valves. The beehive springs they come with are slightly heavier than the stock XB pieces, and likewise the steel retainers are beefier and stronger as well (but also heavier).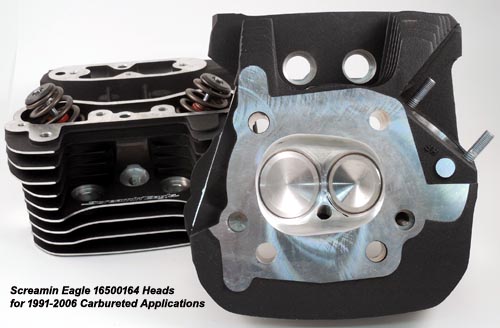 These aren't great heads, don't misunderstand us. The porting job is really crude, with a large stepover and no blending to any of the places it misses. You'll see this when you look at the pictures below. The valve sizes are stock and the valve springs are older technology beehives with steel retainers, as opposed to the modern conical springs with titanium retainers you find with higher end porting jobs. The valve guides are also standard iron pieces, not the high flow bronze manganese type found on high end heads. The hardware has a safe lift ceiling of about .585", which is only slightly higher than the hardware found in XB heads and other 2004+ heads. So this isn't some super-performance set of heads, they're a modest step up from the stock heads.

However, they're not a bad head either, and they're a tremendous bargain at current pricing. The price is lower than a new set of stock heads (back when you could get them) by the time you outfitted the stock heads with all the hardware they needed, as they were only sold bare. They certainly fill a need, where a guy has a relatively modest power goal (100ish hp) and needs head castings.

These heads are available in the black highlighted color scheme only. They use standard width carburetor intake manifolds and the standard width 1991-2006 style manifold flanges (not included). Being big fin heads, they use the 16689-05 adapter bracket (included) to connect the front head to the steering neck area in a 1991-2003 chassis. Also required for their installation is a set of 2004+ pushrods, .065" wall, in the -.050" length (available below).

For higher power builds, we suggest you go with bare EFI castings sold below and have us perform one of our big valve porting services to them. We can create a better head out of virgin castings than we can out of these SE heads, and the EFI castings are the only new virgin castings still available. Don't worry if your application is cabureted, because EFI heads can also be used with a carburetor, assuming you get one of our special wider billet intake manifolds for EFI heads. Which you'll probably be using anyway, in a higher power build.



As you can see, the SE porting job is fairly rough
A large stepover with no blending
We can hand-blend these for a small fee
Contact us for more information

Much the same on the exhaust port
No blending to the port
Hence the powder coat remnants
Again, contact us if you'd like these improved
Screamin Eagle EFI Type Heads (16500074 and 16500347)

These are the EFI versions of the Screamin Eagle 16500164 heads described above. The main difference is the manifold mating surfaces are milled down an additional 1/16" each, to accommodate the EFI throttle body which is 1/8" wider than a standard carb manifold. These heads can be used with a carburetor, however, if you also get one of our special wider billet intake manifolds for EFI heads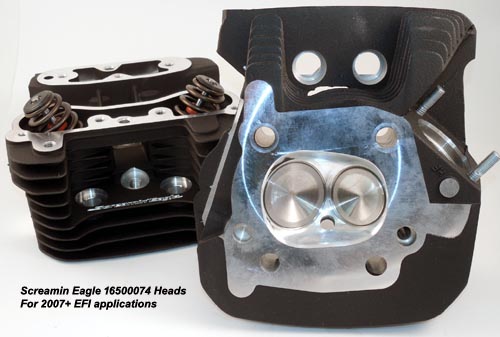 Another difference is the wider intake manifold flange pattern. This improves access to the flange bolts considerably. Since the wider flanges are not included with the heads, be sure to order a set if you don't already have them, i.e. you're putting these heads onto an older motor.

And yet another difference is that these are available in your choice of either black highlighted (16500347) or straight black (16500074), where the 16500164 carbureted versions are available in black highlighted only.

Since these heads are not marketed for 1991-2003 bikes, the front adapter bracket, that connects the front head to the steering neck area on 1991-2003 models, is not included with a set of these heads.

Other than those differences, these are the same heads as the 16500164 carbureted versions described above. They have the same ports, the same hardware, the same big fins, the same bathtub chambers, and require the same shorter pushrods. Power supporting capability is the same 100ish horsepower.

If you're looking for a higher power capability than that, you're better off to start with the virgin 2007-2022 XL1200 head castings offered below. Your heads will come out much better if we don't try to overlay our porting work on top of theirs.



SE heads come with a beehive spring pack
And a stronger (but heavier) retainer
Suitable for a broad range of streetable cams
up to .585 lift and 7200rpm

The SE combustion chambers are also machined
But again, not blended
Hence the powder coat remnants
PLEASE NOTE: We cannot ship stock HD parts outside of the country. If you order any of the follwing HD parts and your ship address is outside the U.S., we will be forced to cancel and refund your order. Contact us and we can provide you with other options.

Also note that we cannot apply discounts of any kind to HD parts.
Buell Thunderstorm Heads - Pair
Black
No Longer Available
Buell XB Heads - Pair
No Longer Available
2004-2006 Sportster 1200 Heads - Pair
Black with Highlighted Fins
No Longer Available
Screamin Eagle Carb Type Heads - $999.95/Pair
Fits 1991-2006 Sportster
Part Number 16500164
Black with Highlighted Fins
Requires shorter pushrods below
1991 applications require new head bolts below
Screamin Eagle EFI Type Heads - $999.95/Pair
Fits 2007-2022 Sportster
Black with Highlighted Fins
Part Number 16500347
Requires shorter pushrods below
Also fits 1991-2006 (carb) with one of our special wider manifolds
Screamin Eagle EFI Type Heads - $999.95/Pair
Fits 2007-2022 Sportster
Straight Black
Part Number 16500074
Requires shorter pushrods below
Also fits 1991-2006 (carb) with one of our special wider manifolds
Stock Sportster EFI 1200 Head Castings - $999.95/Pair
Fits 2007-2022 Sportster
Black with Highlighted Fins
Bare with guides and seats
no valves or springs
ideal for a big valve porting service
Also fits 1991-2006 (carb) with one of our special wider manifolds
Stock Sportster EFI 1200 Head Castings - $999.95/Pair
Fits 2007-2022 Sportster
Straight Black
Bare with guides and seats
no valves or springs
ideal for a big valve porting service
Also fits 1991-2006 (carb) with one of our special wider manifolds
Intake Manifold Flanges - $17.98/Pair
wide style for 2007-Up Sportster Heads
Front Mount Adapter Bracket - $19.99
Part number 16689-05
Connects late model big fin front head
to steering neck area on a 1991-2003 chassis
Set of Four .050" Shorter Pushrods - $59.50
Required for SE heads above
Set of Four Head Bolts, Spark Plug Side - $23.96
Required for Installing SE heads on 1991 Models