---
Patriot Defender - From $345
FREE Shipping in the Continental U.S.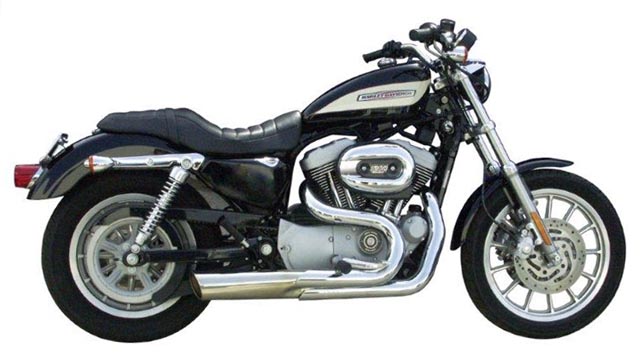 This is one of our favorite pipes for rubber mount XL's. Why? because this pipe delivers the goods and at a very reasonable price. It features:
Outstanding performance (see the dyno sheet below)
Fully welded, stainless steel construction
A butterfly valve in the baffle to adjust the sound level
Sensor bungs with plugs included
The first time we pulled one of these out of the box, we weren't expecting much, given the price. What a surprise, the pipe is beautiful and very well made. Then we put it on the dyno and our jaws hit the floor. Holy cow this thing performs!

More details on this build here. This would be an excellent result on any XL with a 1250 kit and ported heads, but the fact that we pulled this result through small valve 883 heads shows what a terrific performer this pipe is and how well matched it is to our head porting and cams.

The above result was done with the baffle butterfly in the fully open position, and that's where we've found the pipe to perform the best. Be forewarned, the pipe is on the loud side when the butterfly is fully open. When fully closed, the pipe is barely louder than the stock Harley exhaust. The tune changes radically, however, and you will need to remap or rejet. We are developing TTS and Powervision tunes for this pipe, please contact us for a starting point tune for your bike.
This is the baffle butterfly position control
It's locked in place by a piece of wire
The baffle butterfly in it's full open position
It's loud when set here but makes a lot of power
The Patriot Defender is available for 04-present XL883 & XL1200 models in your choice of polished stainless with chrome heat shields, black ceramic coated stainless with black heat shields, or black ceramic coated stainless with chrome heat shields. It fits with forward or mid controls.

Note: These pipes are drop shipped from the manufacturer in the lower 48. If you are outside the lower 48, contact us for a shipping price.

Note 2: The polished stainless version will come out of the box looking almost like chrome. However, over time the stainless will turn a goldish color. This is normal and does not indicate a defect with the product. The chrome heat shields cover the head pipes only and leave the muffler exposed, so you can expect a goldish tint to the muffler over time on the polished version of the pipe.

Notice: The Patriot Defender is currently unavailable. We have reason to believe it will be available again, but we don't know when. Keep checking back.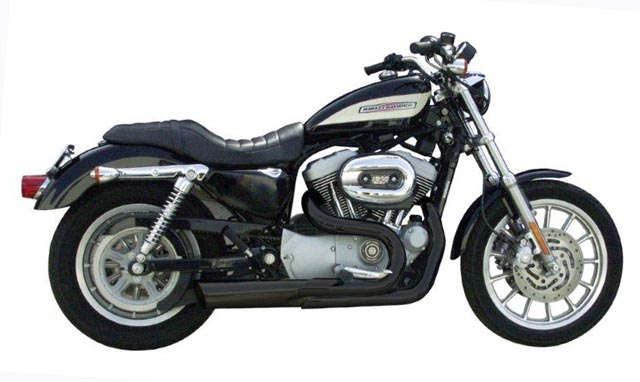 Patriot Defender Exhaust in Black Finish with Black Heat Shields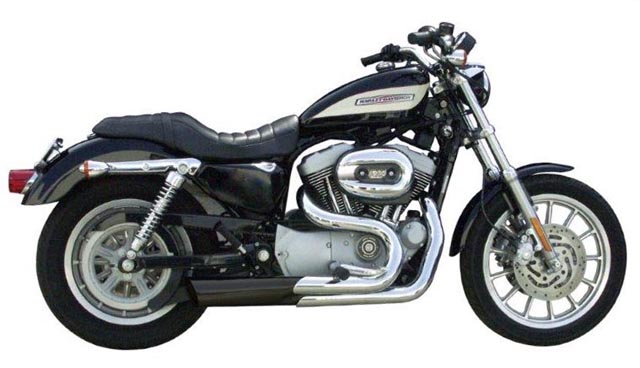 Patriot Defender Exhaust in Black Finish with Chrome Heat Shields