---
BLEM 1250 Kits for Sportsters & Buells!
Regular $549.95 - $649.95 SALE $499.95!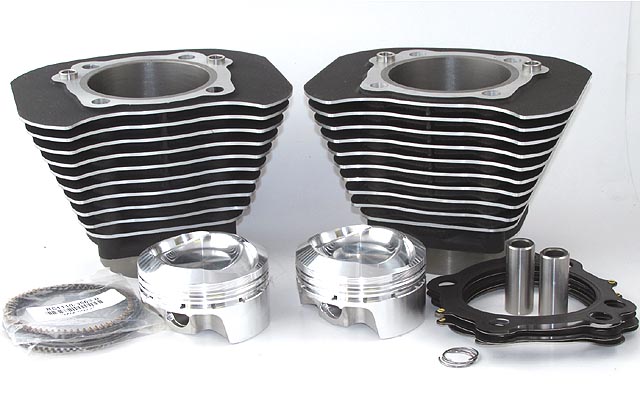 Big fin or small fin! We have a limited number of 1250 kits available for this incredible price. Your kit will be 100% functionally perfect in every way, but the cylinders will have one or more imperfections that will not affect the functionality. We will pick out the two best blem cylinders we have in the color and fin style you choose, so the sooner you order, the more minor the flaws. The imperfections may be in the form of defective powder coat finish, bent or broken fins, or pinhole porosity in the cylinder walls, but the functionality will not be affected in any manner. No advance warning of the nature of the imperfections, and no returns, sorry, the only guarantee here is that the kit will work perfectly when installed and tuned per the instructions. Includes new pistons of your choice, fitted to the cylinders, rings, pins, clips, and head & base gaskets. Full top end gasket set and preassembly options available as with the full price 1250 kits.

Please note: big fin blem cylinders are currently unavailable, ordering will be re-enabled when they are available again
Hammer Performance Cosmetic Blem 1250 Kits for Sportsters & Buells

Heads

Select Details

86-Present XL883
Note: the pistons in these kits
have valve pocket placement that
works with 883 heads only

88+ XL1200
86-87 XL1100
88-10 Buell 1200

Note 1: the 30 degree x .500 and 30 degree Reverse Dome pistons require your chambers be machined to match. HAMMER PERFORMANCE can handle this service for you.
Note 2: the 30 degree x .500 dome race pistons are designed to be cut down to achieve your desired compression ratio, call for details
1250 Kit Options

Description

Price

Add to Cart

Gap Rings and Pre-Assemble Engine Kit

$40

Upgrade Head & Base Gasket to Full Top End Gasket Set

$40
Tip: Choose your top end gasket set based on the type of rocker boxes you're using. The head and base gaskets all interchange from 1986-present.
Tip 2: Head gasket thickness is chosen to optimize squish clearance. Read more about squish clearance here. The size your motor will want is a function of a whole bunch of tolerance stack-up, much of which is on parts of your motor that are not part of your engine kit. Therefore it's impossible to predict with 100% certainty which gasket thickness you'll want. However, practical experience has shown that the .030 head gasket/.020 base gasket combination gives a good squish clearance more than 95% of the time. Most customers use .030 gaskets, never check squish clearance, and problems are almost non-existent. So our advice is to get the .030 head gasket kit, and if it proves to be too thin, let us know and we'll get you some .040 gaskets.