---
BLEM 1250 Kits for Sportsters & Buells!
Regular $549.95 - $649.95 SALE $499.95!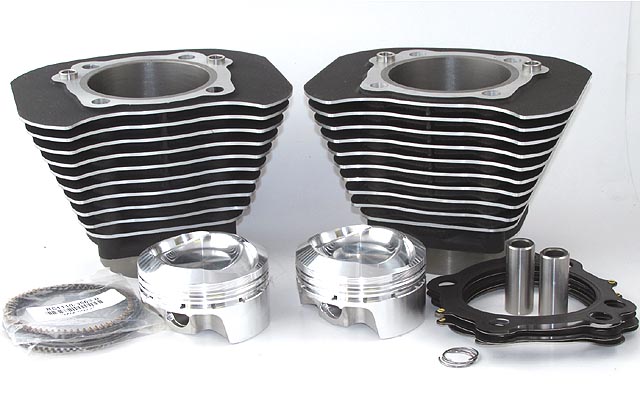 Big fin or small fin! We have a limited number of 1250 kits available for this incredible price. Your kit will be 100% functionally perfect in every way, but the cylinders will have one or more imperfections that will not affect the functionality. We will pick out the two best blem cylinders we have in the color and fin style you choose, so the sooner you order, the more minor the flaws. The imperfections may be in the form of defective powder coat finish, bent or broken fins, or pinhole porosity in the cylinder walls, but the functionality will not be affected in any manner. No advance warning of the nature of the imperfections, and no returns, sorry, the only guarantee here is that the kit will work perfectly when installed and tuned per the instructions. Includes new pistons of your choice, fitted to the cylinders, rings, pins, clips, and head & base gaskets. Full top end gasket set and preassembly options available as with the full price 1250 kits.

IMPORTANT: Other items, beyond just the 1250 kit itself, are required for a successful conversion. Exactly what you need varies depending on the year of your Sportster and whether it's a native 883 or 1200. For a concise list of what you need, click here. Everything can be ordered at that link as well.
Hammer Performance Cosmetic Blem 1250 Kits for Sportsters & Buells

Heads

Select Details

86-Present XL883
Note: the pistons in these kits
have valve pocket placement that
works with 883 heads only

88+ XL1200
86-87 XL1100
88-10 Buell 1200

Note 1: the 30 degree x .500 and 30 degree Reverse Dome pistons require your chambers be machined to match. HAMMER PERFORMANCE can handle this service for you.
Note 2: the 30 degree x .500 dome race pistons are designed to be cut down to achieve your desired compression ratio, call for details